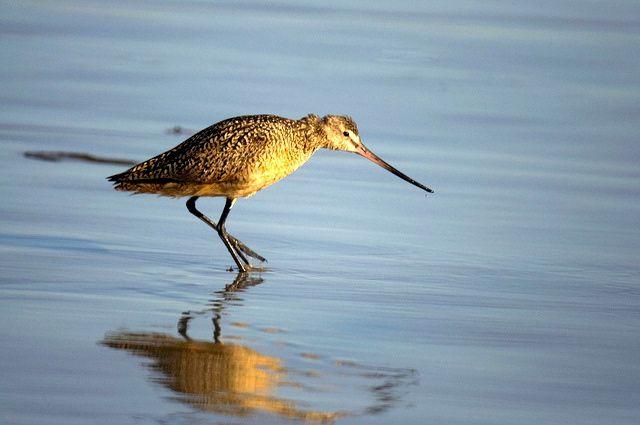 Marbled Godwit. Four Marbled Godwits were spotted feeding on tidal flats at South Beach (Cape Cod) this past week, in an unusual sighting. [Source: Eric Vondy / flickr CC BY-NC-ND 2.0/via WCAI]
I discovered Vern Laux last spring when one of his weekly bird reports from Cape Cod showed up in my bird migration news alert. He is a naturalist and writer as well as a broadcaster at WCAI-FM on the Cape. Not only can you read his elegant, informative prose – you can hear him read it, too. I try to listen to him on WCAI's live stream every Wednesday morning about 8:45 EST. It's also available as full text or audio on demand. To my ear, it's the best bird feature I have heard on public radio. Here is part of today's segment on migrating godwits:
Birders from all over the country and the world make the trip to visit Eastham and Chatham at this time of year for both the numbers and variety of shorebird species that can be seen. It is one of the best places; maybe the best place on the planet, to see the rare Hudsonian Godwit as it visits during its annual migration that takes it to the ends of the planet. This past week there were dozens of these godwits, as well as four Marbled Godwits, feeding on tidal flats at South Beach.

Hudsonian Godwits are relatively large, Arctic nesting shorebirds that visit here, feeding heavily, doubling their body weight in 2 or 3 weeks, before launching on a spectacular nonstop flight to northern South America. From there, they continue southward all the way to the bottom of that continent, spending the Austral summer on the flats around the Straits of Magellan in Patagonia in southern Argentina and Chile.

In fact all the Godwit species in the world, which are the Black-tailed Godwit, Bar-tailed Godwit, including both subspecies. Hudsonian Godwit and Marbled Godwit have all been seen in Chatham in the past as well. This malleable area is perhaps the best place in the world to see godwits.

For the next several weeks, the shorebird spectacle that is visible at these places is to my mind one of the wonders of the world. It is an awesome and humbling sight to see thousands of shorebirds, going on about their lives that are only stopping here briefly in their annual cycle of winging around a large part of the planet. That the birds know these food-rich areas are there and plan their annual migration to take advantage of them is a gift to us all.
Source: Trek to the Tidal Flats off Mononomy a "Must" for Birders | WCAI